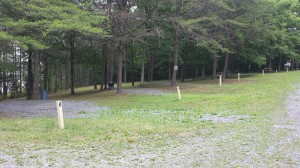 One of the amenities included for members who own property in Lake Holiday is a camping area on the common area grounds near Beach II. The camping sites are only reservable by members, and are rarely completely booked. They are perfect for a weekend get away close to home, or even complete birthday parties for the whole family which is a favorite for the teens in the community.
There are 9 spots total, 7 are more suited to tents, while two are big enough and level enough for trailers. They all have great access to the water and decent water views. There are no comfort amenities, ie water or electric, but there are porta potties setup at beach II for residents during the summer months. If you need a quick shower the clubhouse is just on the other side of the lake, and of course your own home should be close as well! If you are a membership lot owner you also have full access to the camping sites.
Sites can be reserved for up to 14 days at a time. The cost is a minimal $10 for the first 7 days, and a $40 refundable deposit. There are additional fees for days 8-14. You can give the office a call or complete the camping reservation form on the POA website.