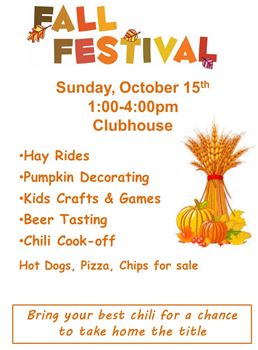 Lake Holiday has scheduled their annual Fall Festival for October 15th, 2017 from 1:00 p.m. until 4:00 p.m.  Attendees can participate in any number of fun-filled, food-filled activities!

Hay Rides
Pumpkin Decorating
Kids Crafts & Games
Beer Tasting
The Not-So-Famous Chili Cook-Off
There is plenty of food, drink, and fun for everyone of all ages.  The weather is expected to be absolutely amazing for another hugely successful event as is par for the course all year 'round!